Sunday, April 28th, 2019
Special Guest Speaker: Revivalist Barry Perez
Sunday, April 21, 2019 – 

Happy Easter!
Special Guest Speaker:
Evangelist Dwight Thompson
Sunday, April 14, 2019 – Pastor Randy Greer
"The Presentation"
Romans 5:1-11 ( The Message Bible)
Sunday, April 7, 2019 – Pastor Randy Greer
"The Last Words of David"
2 Samuel 22 & 23
Sunday, Mar 31st, 2019 – Pastor Randy Greer
"Exiled!"
2 Samuel 14:1-8
Sunday, Mar 24th, 2019 – Pastor Randy Greer
"The Lightning Bolt of Grace"
Psalm 51
Sunday, Mar 17th, 2019 – Pastor Randy Greer
"The Power of Two Words"
2 Samuel 12:1-14
Sunday, Mar 10th, 2019 – Pastor Randy Greer
"The Containment of Sin"
2 Samuel 11:1-15
Sunday, Mar 3rd, 2019 – Pastor Randy Greer
"The ______ Covenant" 
2 Samuel 7:1-7
Sunday, Feb 24th, 2019 – Pastor Randy Greer
"Unfinished Business"
2 Samuel 2:1-7,11
Sunday, Feb 17th, 2019 – Pastor Randy Greer
"Leading With Grace" 
2 Samuel 5:1-12
Sermon Notes – "Leading With Grace"

2 Samuel 5:1-12

David Becomes King of All Israel
5 Then all the tribes of Israel went to David at Hebron and told him, "We are your own flesh and blood. 2 In the past,[a] when Saul was our king, you were the one who really led the forces of Israel. And the Lord told you, 'You will be the shepherd of my people Israel. You will be Israel's leader.'"
3 So there at Hebron, King David made a covenant before the Lord with all the elders of Israel. And they anointed him king of Israel.
4 David was thirty years old when he began to reign, and he reigned forty years in all. 5 He had reigned over Judah from Hebron for seven years and six months, and from Jerusalem he reigned over all Israel and Judah for thirty-three years.
David Captures Jerusalem
6 David then led his men to Jerusalem to fight against the Jebusites, the original inhabitants of the land who were living there. The Jebusites taunted David, saying, "You'll never get in here! Even the blind and lame could keep you out!" For the Jebusites thought they were safe. 7 But David captured the fortress of Zion, which is now called the City of David.
8 On the day of the attack, David said to his troops, "I hate those 'lame' and 'blind' Jebusites.[b] Whoever attacks them should strike by going into the city through the water tunnel.[c]" That is the origin of the saying, "The blind and the lame may not enter the house."[d]
9 So David made the fortress his home, and he called it the City of David. He extended the city, starting at the supporting terraces[e] and working inward. 10 And David became more and more powerful because the Lord God of Heaven's Armies was with him.
11 Then King Hiram of Tyre sent messengers to David, along with cedar timber and carpenters and stonemasons, and they built David a palace. 12 And David realized that the Lord had confirmed him as king over Israel and had blessed his kingdom for the sake of his people Israel.
Sunday, Feb 10th, 2019 – Pastor Randy Greer
"Unfinished Business"
2 Samuel 2:1-7,11
Sermon Notes 
2 Samuel 2:1-7 (NLT)
David Anointed King of Judah
2 After this, David asked the Lord, "Should I move back to one of the towns of Judah?" "Yes," the Lord replied. Then David asked, "Which  town should I go to?" "To Hebron," the Lord answered. 2 David's two wives were Ahinoam from Jezreel and Abigail, the widow of Nabal from Carmel. So David and his wives 3 and his men and their families all moved to Judah, and they settled in the villages near Hebron.4
Then the men of Judah came to David and anointed him king over the people of Judah. When David heard that the men of Jabesh-gilead had buried Saul, 5 he sent them this message: "May the Lord bless you for being so loyal to your master Saul and giving him a decent burial. 6 May the Lord be loyal to you in return and reward you with his unfailing love! And I, too, will reward you for what you have done. 7 Now that Saul is dead, I ask you to be my strong and loyal subjects like the people of Judah, who have anointed me as their new king." 
2 Samuel 2:11 (NLT)
11 David made Hebron his capital, and he ruled as king of Judah for seven and a half years.
Sunday, Jan 27th, 2019 – Pastor Caleb Kaltenbach
"Messy Grace"
Sermon Notes – "Messy Grace"
What a joy and privilege to have Pastor Caleb Kaltenbach, the author of "Messy Grace," as our guest speaker. Many of you know that Caleb's parents divorced when he was two, and his Mom entered the lesbian community while his Dad entered the homosexual community. He was raised going to Gay Pride Parades, and the only Christians he saw were those attending these Parades in opposition. In College, Caleb decided to receive an invitation to attend a Bible study with a friend, for the express purpose of learning how to combat Christianity. As only the Lord could plan it, Caleb had a Divine Encounter and gave his life to Jesus! He is now a Pastor uniquely qualified to teach the Church how to balance grace and truth when learning to love those involved in the LGBTQ Community. Open your
heart to what the Holy Spirit wants to speak into your life today! 
Sunday, Jan 20th, 2019 – Pastor Randy Greer
"Do You Know How to Love?"
1 Samuel 24:1-8
Sermon Notes 
1 Samuel 24:1-8(NLT)
David Spares Saul's Life
24 After Saul returned from fighting the Philistines, he was told that David had gone into the wilderness of En-gedi. 2 So Saul chose 3,000 elite troops from all Israel and went to search for David and his men near the rocks of the wild goats. 3 At the place where the road passes some sheepfolds, Saul went into a cave to relieve himself. But as it happened, David and his men were hiding farther back in that very cave!
4  "Now's your opportunity!" David's men whispered to him. "Today the Lord is telling you, 'I will certainly put your enemy into your power, to do with as you wish.'" So David crept forward and cut off a piece of the hem of Saul's robe. 5 But then David's conscience began bothering him because he had cut Saul's robe. 6 He said to his men, "The Lord forbid that I should do this to my lord the king. I shouldn't attack the Lord's anointed one, for the Lord himself has chosen him." 7 So David restrained his men and did not let them kill Saul. After Saul had left the cave and gone on his way, 8 David came out and shouted after him, "My lord the king!" And when Saul looked around, David bowed low before him.
Sunday, Jan 13, 2019 – Pastor Randy Greer
"Just Say Yes"
1 Samuel 23:1-14
Note: Due to technical difficulties, sound does not start until 1:31
Sermon Notes 
1 Samuel 23:1-14 New Living Translation (NLT)
David Protects the Town of Keilah
23 One day news came to David that the Philistines were at Keilah stealing grain from the threshing floors. 2 David asked the Lord, "Should I go and attack them?" "Yes, go and save Keilah," the Lord told him. 3 But David's men said, "We're afraid even here in Judah. We certainly don't want to go to Keilah to fight the whole Philistine army!"
4 So David asked the Lord again, and again the Lord replied, "Go down to Keilah, for I will help you conquer the Philistines."
5 So David and his men went to Keilah. They slaughtered the Philistines and took all their livestock and rescued the people of Keilah. 6 Now when Abiathar son of Ahimelech fled to David at Keilah, he brought the ephod with him.
7 Saul soon learned that David was at Keilah. "Good!" he exclaimed. "We've got him now! God has handed him over to me, for he has trapped himself in a walled town!" 8 So Saul mobilized his entire army to march to Keilah and besiege David and his men. 9 But David learned of Saul's plan and told Abiathar the priest to bring the ephod and ask the Lord what he should do. 10 Then David prayed, "O Lord, God of Israel, I have heard that Saul is planning to come and destroy Keilah because I am here. 11 Will the leaders of Keilah betray me to him?[a] And will Saul actually come as I have heard? O Lord, God of Israel, please tell me." And the Lord said, "He will come."
12 Again David asked, "Will the leaders of Keilah betray me and my men to Saul?" And the Lord replied, "Yes, they will betray you."
David Hides in the Wilderness
13 So David and his men—about 600 of them now—left Keilah and began roaming the countryside. Word soon reached Saul that David had escaped, so he didn't go to Keilah after all. 14 David now stayed in the strongholds of the wilderness and in the hill country of Ziph. Saul hunted him day after day, but God didn't let Saul find him.
Sunday, Jan 6, 2019 – Pastor Vic Caruso
"We're Almost Home"
1 Peter 4:7-11
Sermon Notes 
1 Peter 4:7-11 (NIV)
7 The end of all things is near. Therefore be alert and of sober mind so that you may pray. 8 Above all, love each other deeply, because love covers over a multitude of sins. 9 Offer hospitality to one another without grumbling. 10 Each of you should use whatever gift you have received to serve others, as faithful stewards of God's grace in its various forms. 11 If anyone speaks, they should do so as one who speaks the very words of God. If anyone serves, they should do so with the strength God provides, so that in all things God may be praised through
Jesus Christ. To him be the glory and the power forever and ever. Amen.
Sunday, Dec 30th, 2018 – Pastor Randy Greer
"Learning to Lean in 2019"
Sermon Notes
Psalm 143 (NLT)
A Psalm of David.
1 Hear my prayer, O LORD; listen to my plea! Answer me because you are faithful and righteous.
2 Don't put your servant on trial, for no one is innocent before you.
3 My enemy has chased me. He has knocked me to the ground and forces me to live in darkness like those in the grave.
4 I am losing all hope; I am paralyzed with fear. 
5 I remember the days of old. I ponder all your great works and think about what you have done.
6  I lift my hands to you in prayer. I thirst for you as parched land thirsts for rain.
7 Come quickly, LORD, and answer me, for my depression deepens. Don't turn away from me, or I will die.
8 Let me hear of your unfailing love each morning, for I am trusting you. Show me where to walk, for I give myself to you.
9 Rescue me from my enemies, LORD; I run to you to hide me. 
10 Teach me to do your will, for you are my God. May your gracious Spirit lead me forward on a firm footing.
11 For the glory of your name, O LORD, preserve my life. Because of your faithfulness, bring me out of this distress.
12 In your unfailing love, silence all my enemies and destroy all my foes, for I am your servant.
Sunday, Dec 23rd, 2018 – Pastor Randy Greer
"There's No Impact Without a Collision" –  Matthew 1:18-25
Note: Due to technical difficulties, sound does not start until 2:45
Sermon Notes 
Matthew 1:18-25 (NLT)
The Birth of Jesus the Messiah
18 This is how Jesus the Messiah was born. His mother, Mary, was engaged to be married to Joseph. But before the marriage took place, while she was still a virgin, she became pregnant through the power of the Holy Spirit. 19 Joseph, to whom she was engaged, was a righteous man and did not want to disgrace her publicly, so he decided to break the engagement quietly. 20 As he considered this, an angel of the Lord appeared to him in a dream. "Joseph, son of David," the angel said, "do not be afraid to take Mary as your wife. For the child within her was conceived by the Holy Spirit. 21 And she will have a son, and you are to name him Jesus, for he will save his people from their sins." 22 All of this occurred to fulfill the Lord 's message through his prophet: 23 "Look! The virgin will conceive a child! She will give birth to a son, and they will call him Immanuel, which means 'God is with us.'"24 When Joseph woke up, he did as the angel of the Lord commanded and took Mary as his wife. 25 But he did not have sexual relations with her until her son was born. And Joseph named him Jesus.
Sunday, Dec 9th, 2018 – Pastor Randy Greer
"The Day Peace Entered the World"
Sermon Notes
Luke 1:26-35 (NLT)
The Birth of Jesus Foretold
26 In the sixth month of Elizabeth's pregnancy, God sent the angel Gabriel to Nazareth, a village in Galilee, 27 to a virgin named Mary. She was engaged to be married to a man named Joseph, a descendant of King David. 28 Gabriel appeared to her and said, "Greetings, favored woman! The Lord is with you! " 29 Confused and disturbed, Mary tried to think what the angel could mean. 30 "Don't be afraid, Mary," the angel told her, "for you have found favor with God!   31 You will conceive and give birth to a son, and you will name him Jesus. 32 He will be very great and will be called the Son of the Most High. The Lord God will give him the throne of his ancestor David.  33 And he will reign over Israel forever; his Kingdom will never end!"  34 Mary asked the angel,  " But how can this happen? I am a virgin." 35 The angel replied, " The Holy Spirit will come upon you, and the power of the Most High will overshadow you. So the baby to be born will be holy, and he will be called the Son of God.
Sunday, Dec 2nd, 2018 – Pastor Randy Greer
"The Birth of Eternal Hope" –  Matthew 2:1-12
Sermon Notes 
Matthew 2:1-12 (NLT)
VISITORS FROM THE EAST
1 Jesus was born in Bethlehem in Judea, during the reign of King Herod. About that time some wise men from eastern lands arrived in Jerusalem, asking, 2 "Where is the newborn king of the Jews? We saw his star as it rose, and we have come to worship him." 3 King Herod was deeply disturbed when he heard this, as was everyone in Jerusalem. 4 He called a meeting of the leading priests and teachers of religious law and asked, "Where is the Messiah supposed to be born?" 5 "In Bethlehem in Judea," they said, "for this is what the prophet wrote: 6 'And you, O Bethlehem in the land of Judah, are not least among the ruling cities of Judah, for a ruler will come from  you who will be the shepherd for my people Israel.'" 7 Then Herod called for a private meeting with the wise men, and he learned from  them the time when the star first appeared. 8 Then he told them, "Go to Bethlehem and search carefully for the child. And when you find him, come back and tell me so that I can go and worship him, too!" 9 After this interview the wise men went their way. And the star they had seen in the east guided them to Bethlehem. It went ahead of them and stopped over the place where the child was. 10 When they saw the star, they were filled with joy!  11 They entered the house and saw the child with his mother, Mary, and they bowed down and worshipped him. Then they opened their treasure chests and gave him gifts of gold, frankincense, and myrrh. 12 When it was time to leave, they returned to their own country by another route, for God had warned them in a dream not to return to Herod.
Sunday, Nov 25th, 2018 – Pastor Vic Caruso
"Almost Oops!"
Sermon Notes
Psalm 73:1-3 (NIV)
A Psalm of Asaph
1 Surely God is good to Israel, to those who are pure in heart. 2 But as for me, my feet had almost slipped; I had nearly lost my foothold. 3 For I envied the arrogant when I saw the prosperity of the wicked.
Sunday, Nov 11th, 2018 – Pastor Randy Greer
"Who Let the Dogs Out?" –  Psalm 56, Samuel 21:10-15
Sermon Notes 
Psalm 56 (NLT Translation)
1 O God, have mercy on me, for people are hounding me. My foes attack me all day long. 2 I am constantly hounded by those who slander me, and many are boldly attacking me. 3 But when I am afraid, ll put my trust in you. 4 I praise God for what he has promised.
I trust in God, so why should I be afraid? What can mere mortals do to me?   5 They are always twisting what I say;they spend their days plotting to harm me. 6They come together to spy on me—watching my every step, eager to kill me. 7 Don't let them get away with their wickedness; in your anger, O God, bring them down. 8 You keep track of all my sorrows. You have collected all my tears in your bottle.
You have recorded each one in your book. 9 My enemies will retreat when I call to you for help. This I know: God is on my side! 10 I praise God for what he has promised; yes, I praise the LORD for what he has promised. 11 I trust in God, so why should I be afraid?  What can mere mortals do to me?  12 I will fulfill my vows to you, O God, and will offer a sacrifice of thanks for your help. you have kept my feet from slipping. So now I can walk in your presence, O God, in your life-giving light.
1 Samuel 21:10-15 (NLT Translation)
10 So David escaped from Saul and went to King Achish of Gath. 11 But the officers of Achish were unhappy about his being there. "Isn't this David, the king of the land?" they asked. "Isn't he the one the people honor with dances, singing, 'Saul has killed his thousands, and David his ten thousand'?" 12 David heard this comments and was very afraid of what King Achish of Gath might do to him. 13 So he pretended to be insane, scratching on doors and drooling down his beard. 14 Finally, King Achish said to his men, "Must you bring me a madman? 15 We already have enough of them around here! Why should I let someone like this be my guest?"
Sunday, Nov 4th, 2018 – Pastor Randy Greer
"Sustaining Presence"  1 Samuel 21:1-9, Mark 2:23-28
Sermon Notes
1 Samuel 21:1-9 (NLT) – David Runs from Saul
1 David went to the town of Nob to see Ahimelech the priest. Ahimelech trembled when he saw him. "Why are you alone?" he asked. "Why is no one with you?"
2. "The king has sent me on a private matter," David said. "He told me not to tell anyone why I am here. I have told my men where to meet me later. 3 Now, what is there to eat? Give me five loaves of bread or anything else you have."
4 "We don't have any regular bread," the priest replied. "But there is the holy bread, which you can have if your young men have not slept with any women recently."
5 "Don't worry," David replied. "I never allow my men to be with women when we are on a campaign. And since they stay clean even on ordinary trips, how much more on this one!"
6 Since there was no other food available, the priest gave him the holy bread—the Bread of the Presence that was placed before the LORD in the Tabernacle. It had just been replaced that day with fresh bread.
7 Now Doeg the Edomite, Saul's chief herdsman, was there that day, having been detained before the LORD.
8 David asked Ahimelech, "Do you have a spear or sword? The king's business was so urgent that I didn't even have time to grab a weapon!"
9 "I only have the sword of Goliath the Philistine, whom you killed in the valley of Elah," the priest replied. "It is wrapped in a cloth behind the ephod. Take that if you want it, for there is nothing else here." "There is nothing like it!" David replied. "Give it to me!"
Trinity Life Center Videos
Come Join With Us! – A video Invitation from Pastor Randy to Worship with Us at Trinity Life Center (1:08)
Haiti – A Mission of Hope – a great video about the 2011 Haiti Mission Trip led by Pastor Vic Caruso. (11:52)
Las Vegas Hope and Healing (07:39)
Watch and share this powerful video about the impact the Oct 1 tragedy at Mandalay Bay had on our LVMPD police officers.  God is with our city, but there is a lot of pain that's still happening. Please continue to pray for us, we're gonna keep reaching out to our community, and we're gonna keep touching people's lives.
We do what we can to be available for the Las Vegas Metro Police Department at our church here in Las Vegas. We think they're one of the finest police departments in the nation and we felt like it would be best for us to express our care and our love by feeding them.  We are going to all eight LVMPD area commands over the next several months just to thank them for being there when we needed them most.
City Impact Center Videos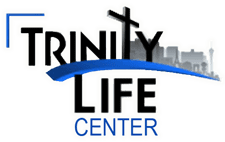 CONTACT US
Trinity Life Center
1000 E. St. Louis Avenue
Las Vegas, NV 89104
702.734.2223
E-mail: Info@trinity-life.org
OUR MISSION
To be a community of believers, prayerfully committed to making disciples of all nations who will discover and utilize their God-given gifts in ministry to others.
Other Ways to Get Connected:
Wednesdays - The 2:42 Club - Join us on line via Zoom!
7:00 pm - 8:00 pm
Thursdays - LIVE Prayer Meeting - Join us in the sanctuary!
10:00 am - 12:00 pm
---