Connect Point Ministry
Sunday Mornings at 9:00 am
Welcome to

Connect Point represents our Sunday morning roster of Bible Study and Christian Education classes. We are committed to exposing our congregation of all ages to an in-depth study of the Word of God and are determined that this continue week by week in every season of the year!  The Christian Education Department encourages the formation of other small group Bible Study opportunities throughout the week on our church campus and it also assists other church Ministries in identifying effective curriculum as well as providing logistics for their own periodic Bible Study series.
Classes are from 9:00 to 10:00 a.m. Sundays and they include:
Kindergarten – 1st & 2nd grade
3rd & 4th grade
5th grade
Middle School Girls
Middle School Boys
High School
Adult elective classes offered:
Marriage Class
Bible Survey
Basic Christianity
Nuggets from the Word
Our ministry's fundamental goal is to encourage the Body of Christ to be vigilant in studying God's Word in order to stimulate cogent Biblical literacy.
Pastor Larry Wayne Morbitt,
Christian Education

Our Connect Point Superintendent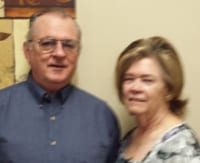 John & Mary Agan
Connect Point Superintendant
Our Sunday School Superintendent is John Agan who is ably assisted by his wife, Mary and oversees curriculum and logistical concerns. He directly supervises our superb faculty. Most classes are "team taught" with two teachers. Connect Point encourages those who are interested in exercising their "Calling to Teach" by applying their skills to the task of training and guiding willing students systematically through the Word.